Global Newsletter
June 2022
RED & BLUE brings climate change risks into focus through interdisciplinary research programme
A combination of natural phenomena such as rising river and sea levels, erosion and more extreme weather conditions are exposing the real estate world to new challenges and risks: in a nutshell, climate change. These risks need to be taken particularly seriously in the Netherlands given the country's location in a delta. 'RED & BLUE' - which stands for Real Estate Development and Building in Low Urban Environments - is taking up the gauntlet and investigating the risks of a changing climate for real estate in low-lying urban areas.
The consortium – which Bouwinvest is a member of – brings together public and private parties to find solutions. Various Bouwinvest employees are involved in the research programmes, where knowledge is exchanged freely. Professor Ellen van Bueren, Professor of Urban Development Management at Delft University of Technology, is responsible for the multi-disciplinary programme and offers us an insight into the RED & BLUE research department. 'If we don't take action now, the losses will be insurmountable'.
---
Bouwinvest participates in European innovation project Interconnect for sustainable energy use
In November 2022, a new way of living will start in the bustling Eindhoven district of Strijp-S in the Netherlands.
The first residents will move into NEXT, the first residential building in the Netherlands to manage energy consumption in a totally smart way. Bouwinvest, VolkerWessels iCity and TNO will be studying the smart home project over the next few years as part of the European project Interconnect. Residents will be continuously involved in its evolution.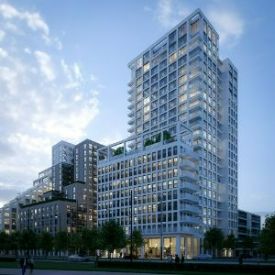 The tailor-made technology incorporated in the NEXT flats features a higher level of integration and living comfort and reduces electricity usage peaks. The dishwasher can identify the best time to wash tableware, the ventilation system knows when there are more occupants in the apartments and automatically adjusts to provide additional fresh air. The appliances are integrated and connected to a central control panel, which tenants can operate with their smartphones. This integrated home suite is designed to challenge its tenants to make the city more sustainable through an energy-efficient lifestyle, making the home pleasant to live in and sustainable city.
---
Investors unite to push for deeper ESG reporting across Asia-Pacific
A group of 16 investors - including Bouwinvest - representing US $19 trillion have launched a round of coordinated engagements to strengthen dialogue on ESG performance and GRESB participation with real estate companies across 12 key markets in the APAC region. The work is undertaken in close collaboration with GRESB, a global ESG benchmark for real estate portfolios.

This year's initiative – focused on markets such as Australia, Hong Kong, South Korea, Singapore, and Japan – is supported by established investors including B&I Capital, Bouwinvest, CenterSquare, Heitman, JP Morgan Asset Management, and Schroders.

Real estate companies in Asia-Pacific tend to score highly in the GRESB Benchmark, often leading the world in aggregate, but tend to submit data later in their ESG journey than companies in other regions, which has led to underrepresentation in total numbers.

In addition to providing ESG data directly to investors, real estate companies that participate in GRESB often indirectly benefit through ESG indices such as the iEdge-UOB APAC Green Reit Index launched in October 2021, which uses GRESB Assessment performance data.

This year, 50 companies will be engaged and invited to participate in the GRESB Real Estate Assessment. This is an expansion from last year, in which 13 investors collaborated with GRESB to reach out to more than 30 companies in nine Asian markets.

Bouwinvest: "We develop full ESG models in addition to our financial models for our integrated listed and non-listed investments. At Bouwinvest we view companies with strong ESG standards favorably. It is very helpful where companies participate in GRESB as this means that the information will go automatically into our models."