Bouwinvest partners with Man GPM on net zero energy US single-family rental communities
Man Global Private Markets ('Man GPM'), Man Group's private markets investment business, announced that it has partnered with Bouwinvest to build net zero energy single-family rental homes. The joint venture will aim to build around 1,000 net zero energy build-to-rent properties across various US metropolitan areas over the next several years. The first project in Charlotte, North Carolina, is the first institutionally backed build-to-rent net zero energy single-family rental community in the US.

Man GPM and Bouwinvest will construct homes targeting a Home Energy Rating System (HERS) score of zero, whereby the renewable energy produced by rooftop solar panels is equal to the annual energy usage. The properties, which will target three or more bedrooms, will also be ENERGY STAR-certified (or equivalent) and include items such as energy-efficient building materials and heating and cooling systems, ENERGY STAR certified appliances, electric vehicle charging ports, low flow water fixtures, LED lighting and low maintenance yards.

Anthony Cazazian, Head of US Residential Real Estate, Man GPM, said: "We are facing a serious climate crisis that has implications on every part of our lives. At the same time, we are facing a housing shortage and consumers are looking for modern and healthier living alternatives. We're excited to work with Bouwinvest, who we consider a global leader in sustainable real estate investments, to help be a part of the solution to all of these challenges and provide homes that we believe are built for the future. Man Group has a heritage of finding innovative solutions for complex problems, and we see a significant opportunity to bring this novel approach to Charlotte and beyond."

Bert van den Hoek, Senior Portfolio Manager North America, Bouwinvest, added: "Bouwinvest aims to make its entire portfolio near carbon neutral by 2045 in line with the goals of the Paris Agreement. That means we need to work on our existing portfolio, but we are also committed to investing in new assets and development projects that will be near carbon neutral. This build-to-rent joint venture of net zero energy single-family rental homes with Man GPM is attractive to us because it balances sustainability with the long-term financial goals of our pension fund clients."
Pursuing a green strategy
isn't easy, but necessary.
Bert van den Hoek
Senior Portfolio Manager North America
Bouwinvest wants to invest in North America – and its goal is near carbon neutrality
Bouwinvest Real Estate Investors has a bold ambition: to be near carbon neutral by 2045. Coupled with this strategy, the firm is looking to expand its presence in North America to $2.5 Billion within two to three years. Bouwinvest already has $17.5 Billion in assets under management globally, including $2 Billion in North American real estate.

Pursuing such a green strategy isn't easy, Bouwinvest North America Senior Portfolio Manager Bert van den Hoek said, but it is necessary for two reasons. First, the firm sees it as its responsibility as a long-term investor and, second, because of real estate's growing risk profile due to climate change. And the drivers pushing these two agendas are only set to increase.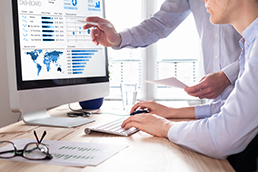 Bouwinvest builds new tool to facilitate data-driven decisions
Bouwinvest has developed an automated data warehouse which combines information from the company's unlisted and listed portfolios with market data, which helps to improve its portfolio management tools. The initiative helps to facilitate in the increasing demand from institutional investors and Dutch regulatory bodies for more asset-level information on different metrics, like ESG, Robert Wagenaar, Head of Portfolio Operations and Transactions at Bouwinvest, explained in the autumn edition of NAREIM Dialogues. An automated data approach helps to respond effectively to the scrutiny from clients, fiduciaries and regulatory bodies, and it really helps us facilitate up-to-date asset-level reporting.

Bouwinvest is also incorporating climate risk exposure into its portfolio management tools. Wagenaar: "What we recently did, for example, was to plot the locations of all our assets, both from our listed and unlisted investments, on climate maps to see how exposed they are to certain climate risks like flooding. We want to make those assessments comparable across our portfolio, in the Asia Pacific region, Europe and the United States."

It can be quite challenging in real estate to obtain standardised and consistent information, he pointed out. "Building certificates, for example, are different in every country, which makes them hard to compare. We'll have to take the step towards standardisation in the industry over the next few years."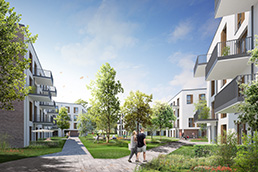 Bouwinvest invests €65 million in affordable rental housing in Germany
Bouwinvest has invested €65 million in six affordable rental housing developments in Germany on behalf of its European Mandate. Three of the projects are located in the Berlin region, with one in Hamburg and two in Dusseldorf. The properties will be managed by a leading investment manager for institutional real estate investments in the German-speaking markets.

The investments are in line with the strategic targets of Bouwinvest's European Mandate and comprise both pure residential developments as well as one mixed-use project combining residential and office space. The investment will boost Germany's share of the European portfolio to around 30% of the total.

The investment is targeting a 'develop-to-hold strategy' in Germany, with a clear focus on affordable residential developments in the leading cities within the country. Germany suffers from a chronic housing shortage, and the market fundamentals in the larger metropolitan areas in particular are therefore solid.

The commitment will contribute to sustainable, liveable and inclusive metropolitan areas in Europe. With this investment financial and social returns go hand in hand while achieving further growth of Bouwinvest's European portfolio.

Sustainability is a key pillar for Bouwinvest, and the German fund will therefore participate in the GRESB survey – a global ESG benchmark for real assets – and target a minimum of four of the five stars awarded to real estate entities.