Newsletter #2
September 2020
Bouwinvest commits to DGBC's 'Paris Proof Commitment'
On 22 September, Bouwinvest signed the 'Paris Proof Commitment' drawn up by the Dutch Green Building Council (DGBC), the national institute committed to making the built environment sustainable and future-proof at an accelerated pace by 2050. Bouwinvest is targeting a zero carbon portfolio by 2045.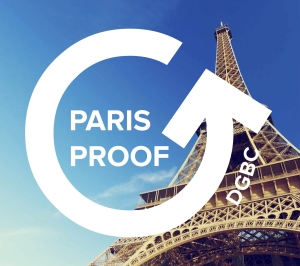 The real estate sector has a big responsibility to help achieve the goals outlined in the Paris Climate Accord. That pact prompted DGBC to develop a multi-year sustainability programme aimed at making the built environment 'Paris Proof" as rapidly as possible.

As a leading player in the real estate sector, we feel responsible for ensuring that buildings and urbanised areas emit far less CO2. Under the Paris Climate Accord, we have all agreed to use sustainable and renewable energy by 2050. That also means we need to move towards energy-efficient buildings. In practice, that amounts to our built environment becoming two-thirds more energy-efficient on average than it is now because Paris Proof buildings need to be extremely energy-efficient and not use natural gas, which is often the case now.

Bouwinvest contributed to the development of the DGBC's Paris Proof Commitment which is also part of the global Advancing Net Zero Commitment. As a signatory, Bouwinvest pledges to:
Achieve the Paris Proof climate goals for 2050, but goes one step further by aiming to be Paris Proof by 2045;
Be transparent about our energy consumption and CO2 emissions, so that it is clear to everybody how energy-efficient our buildings are;
Draw up roadmaps for our own Dutch portfolios and execute consistently;
Monitor and report progress to gain insights into the results achieved. We will share this information with the (real estate) industry and the government;
Promote Paris Proof and show leadership to our investors (pension funds), tenants/users, the (real estate) industry, partners and suppliers. In that way, everybody in the chain, not just Bouwinvest, contributes to becoming Paris Proof.
Data is key to create roadmaps on how to green our portfolios long-term

To achieve our Paris Proof objectives by 2045, Bouwinvest is developing strategic plans to make our Dutch real estate funds sustainable for the long run. A roadmap has already been drawn up for our Dutch Residential Fund. The plans for our Retail, Office, Healthcare and Hotel funds are currently being created in collaboration with INNAX.

The roadmaps incorporate the following objectives:

to make our sustainability goals specific at both portfolio and building level;

to list the relevant features of the buildings (in our portfolios) such as year of completion, the energy value of facades, roofs, floors, type of installations; and existing sustainable measures such as LED lighting and solar panels;

to record actual energy consumption of the buildings;

to determine which sustainability measures are necessary;
to implement, where possible, new measures during existing maintenance programmes and in line with the energy transition policies of Dutch municipalities.
Reliable property and energy consumption data is vital to creating a Paris Proof roadmap that incorporates the right measures. On 23 September, a webinar was held on this topic where both Bouwinvest and INNAX discussed our data-driven approach to create efficient roadmaps. Micha Reusen, Head of Sustainability & Innovation, took part in the webinar on behalf of Bouwinvest.
Eindhoven Strijp S resi complex pioneers smart living with direct current pilot
Making the built environment 'Paris Proof' is, without a doubt, the responsibility of real estate asset managers such as Bouwinvest, but our mission cannot succeed without intensive cooperation with our partners in the property chain. During an 18-month period, Bouwinvest conducted a unique pilot project at the BLOK 61 residential complex at Strijp S in Eindhoven together with VolkerWessels iCity and Interconnect to connect several apartments to a direct current (DC) system for the first time ever. As part of our efforts to stimulate innovation in the field of smart living we have bundled our insights, conclusions and recommendations in a white paper entitled 'Smart DC Lofts and opportunities for smarter living.'
New office opens in New York
Bouwinvest has opened an office in New York as part of our strategy to expand our invested capital in North America by €300 million in the coming years to €1.7 billion in 2022 (YE 2019: €1.4 billion). A presence in the market and closer proximity to our investments will help us achieve our growth targets and our goal to create 'Real Value for Life'. Bert van den Hoek, Senior Portfolio Manager North American Investments, will head our new satellite office after joining the team of Gijs Plantinga, Director North American Investments, late last year. We see excellent opportunities to expand our North American investments and to focus on sustainable investment, for example in affordable rental housing in metropolitan area.
Copyright © 2020 Bouwinvest, All rights reserved.